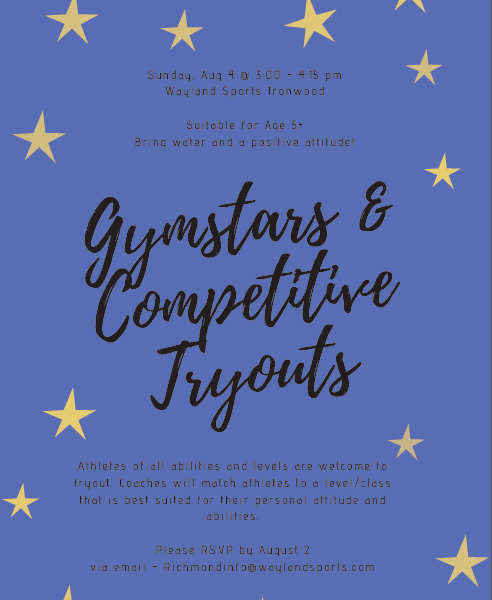 Yep, it's that time of year again! We're offering Tryouts for athletes ages 5 and up who are interested in Interclub and Competitive Artistic Gymnastics!
Both the Interclub and Competitive programs allow athletes to train more hours in the gym, develop skills physically and mentally in preparation for fun meets and competitions. All abilities/levels welcome to tryout. Coaches will match athletes to a level/class that is best suited for their personal attitude and abilities. Whether that is part of the Competitive, Interclub (Gymstars), or Recreational (Gymkids) program we encourage all those who are attending to try their best and keep a positive mindset during the tryout as well as with the placement outcome.
Tryouts will be held Sunday, August 4 and begin promptly at 3:00 – 4:15 pm @ Wayland Sports, Ironwood – with a parent's question period to follow.
Please bring a water bottle, gym clothes free of zippers/buttons, and a positive attitude!
See you at the gym!
Please RSVP in person at the gym
OR Via email: richmondinfo@waylandsports.com